Reigen — 2021
by Arthur Schnitzler,
Theater Krefeld & Mönchengladbach

"... the tremendous strangeness between man and woman became palpable ..." wrote Arthur Schnitzler on 5 February 1921, after attending rehearsals in Berlin for the world premiere of his "Reigen", written in 1896/97. The production hit the point that mattered to him. Schnitzler's ironic and melancholy "Reigen" is about ten encounters, ten transgressions between man and woman. It always revolves around "the one thing", there is always a "before" and a "after", people always part company afterwards - only to appear at someone else's house immediately afterwards. This is how the circle is composed: Each scene is connected to the next by a character. This also means that each person sleeps with two others.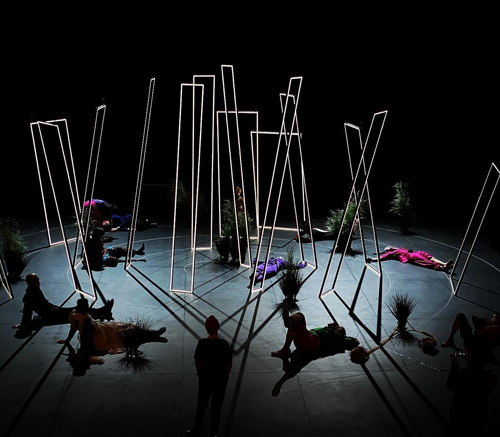 Photography: Matthias Stutte
Team & Cast
Team
Direction Maja Delinić
Stage design Ria Papadopoulou
Costume design Janin Lang
Music Clemens Gutjahr
Choreography Pascal Merighi
Dramaturgy Martin Vöhringer


Cast
The Harlot Philipp Sommer
Pan I / Conférencière / Conférencier / The Sweet Girl Katharina Kurschat
Pan II / Conférencière / Conférencier / The Sweet Girl Raafat Daboul
The Soldier Henning Kallweit
The Parlour Maid Jannike Schubert
The Young Man David Kösters
The Young Woman Nele Jung
The Husband Ronny Tomiska, Paul Steinbach
The Poet Adrian Linke
The Actress Eva Spott
The Count Christoph Hohmann


Premiere
Theater Krefeld & Mönchengladbach, Große Bühne

Trailer