Moby Dick — 2023
after Herman Melville, stage version by Maja Delinić & Verena Meis
Theater Krefeld & Mönchengladbach

"Shall I send you a fin of the whale as a morsel to taste? The tail is not yet cooked - although the hellfire over which the whole book is being grilled ought to have cooked it through by now." This is what Herman Melville wrote to his friend and writer Nathaniel Hawthorne on 29 June 1851, shortly before the publication of his exceptional work "Moby-Dick". A demonic book between adventure novel, encyclopaedia, creed and papery allegory, which seems to be far more than Captain Ahab's hunt for the white whale.

Even if helmsman Stubb is not grilling a mirage but a real whale steak over an ordinary fire, indecipherable sea creatures, dubious inhabitants of the ship and murky weather conditions keep appearing in "Moby-Dick". Is Ahab Ahab? Is Moby Dick really a whale? And is Ishmael, the narrator, really on board? The search for a fixed star without a protractor turns out to be a mad whale ride.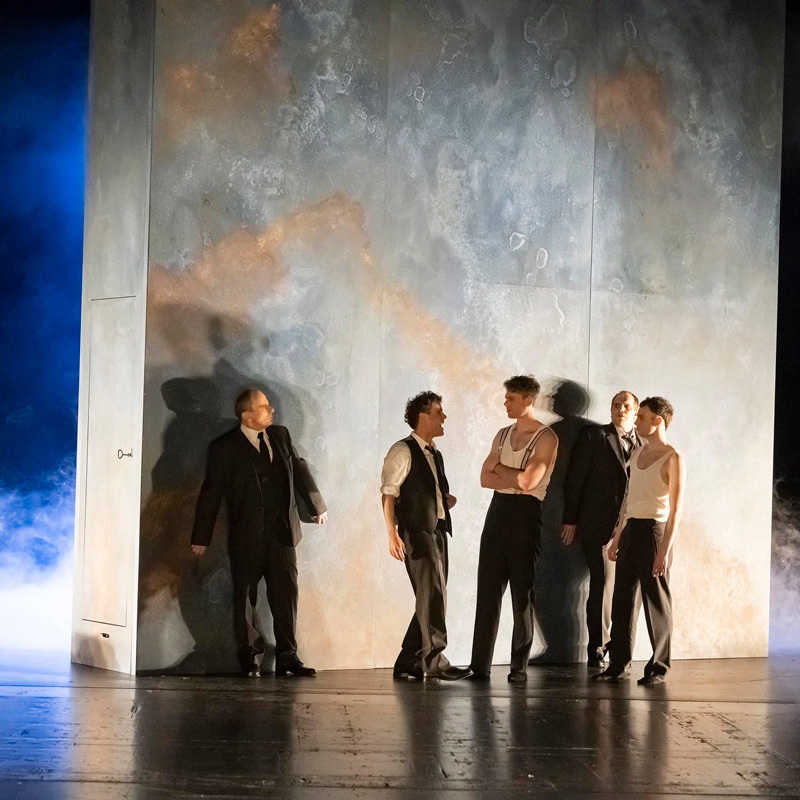 Photography: Matthias Stutte
Team & Cast
Team
Direction Maja Delinić
Stage design Ria Papadopoulou
Costume design Janin Lang
Music Clemens Gutjahr
Dramaturgy Verena Meis


Cast
With Christoph Hohmann, David Kösters, Nicolas Schwarzbürger, Paul Steinbach, Ronny Tomiska, Philipp Sommer
Premiere
May 6th 2023, Theater Krefeld & Mönchengladbach

Additional dates

Trailer