Café Populaire — 2022
by Nora Abdel-Maksoud,
Wuppertaler Bühnen

Svenja is a good person and a hospice clown by profession. However, it's not easy for her to be heard with her concern for the betterment of the world. So she tries a second career as a Youtuber. Her topic: instructions for anti-discriminatory humour, "humourism", a mixture of humour and humanism. Unfortunately, Svenja has only 8 followers, 4 of them already deceased. When she hears about the new tender for the Gasthaus zur Goldenen Möwe, the "house of culture" in the small town of Blinden, her hour strikes: she applies to be the tenant. At the most important moment - her pitch for the new Möwe concept - "The Don" drives into her, a kind of alter ego, an evil spin-off of herself. He resolutely despises "Asiprolls" and losers - but as he speaks out of her, the click numbers rise ...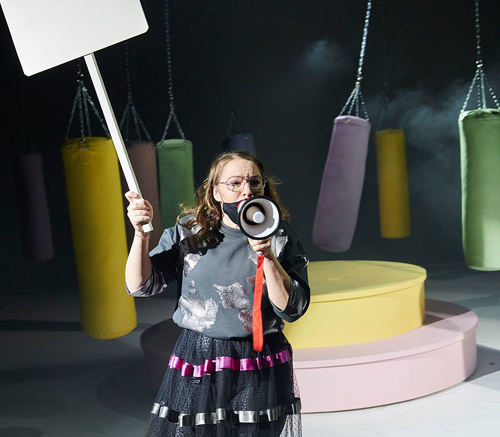 Photography: Uwe Schinkel
Team & Cast
Team
Direction Maja Delinić
Stage & costume design Ria Papadopoulou
Music & live musician Clemens Gutjahr
Dramaturgy Barbara Noth


Cast
SVENJA, hospice clown, good person Madeline Martzelos
DER DON, Svenja's classist spin-off Julia Meier
PÜPPI, oldest patient at the hospice. Tough as cowhide Stefan Walz
ARAM, Service proletariat Konstantin Rickert


Premiere
January 15th 2022, Theater am Engelsgarten Wuppertal
Additional dates